I don't have much information on the Civil Defense Rescue Service but here are a few interesting photos and some information from a Civil Defense Rescue Service manual.
Seattle Civil Defense Rescue Service Vehicles
I came across these great photos while searching the Seattle Municipal Archives for some architectural photos. The folks at the archives were good enough to send me large versions of the photos for the CD Museum. I really wish I had the names of the officials in the photos. In the far right photo it's pretty obvious that the two men in uniform are (second from right and right respectively) the Fire Chief and Police Chief. I have no idea who the other 2 men are. I assume that one must be the Civil Defense director.
In early January 2018 I recieved the following comments from Mr. Worcester with the City of Seattle.. The man in the gray suit in the 3 pictures I believe is Henry R. Berg, who was a Senior Engineer, with the City of Seattle Engineering Dept. He was the Seattle Civil Defense Coordinator. Based on some correspondence I've seen, I suspect it was a secondary duty, he was working on city-owned property issues in May of '54. Those photos are Sept of '54; and I have other items which place him in the CD Coordinator role in '51.
Click each photo to see larger.
---
Civil Defense Rescue Vehicles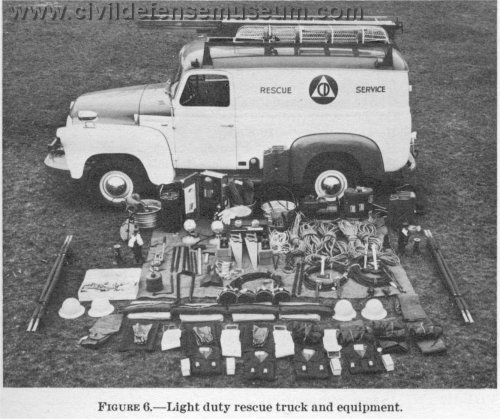 These rescue vehicle photos are from the FCDA Rescue Skills and Techniques manual TM-14-1.
---
Civil Defense Recommended Rescue Equipment List For Each Truck Type
| | | | |
| --- | --- | --- | --- |
| Page 45 | Page 46 | Page 47 | Page 48 |
This rescue equipment list is from the DCPA publication SM 14-1 (Pocket Edition) Jan. 1974 Emergency Rescue Training. Click each image to see larger.
---
Civil Defense Rescue Service Organizational Charts

Suggested organization of local rescue service.




Organization of light duty rescue squad chart.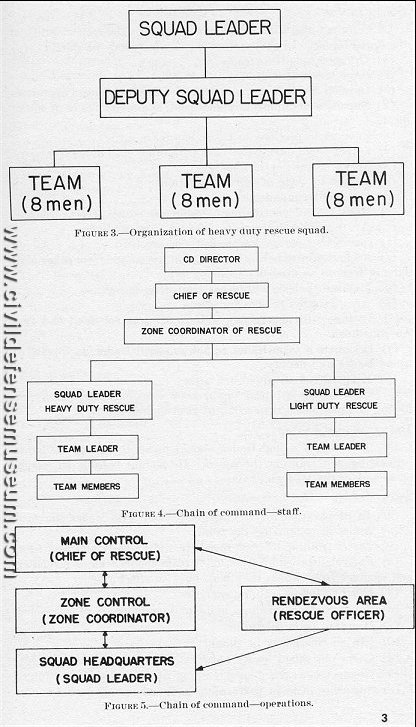 Organization of heavy duty rescue squad and chain of command-operations chart.

---
Union County Ohio Rescue Photos
Mr. Brad Gilbert Deputy Director of Union County Ohio EMA sent me these photos in March 2004 of their county volunteer rescue service. Some photos have typed captions. I don't have any more information on the photos without captions. Of particular interest is the top center photo of the crew using the CD V-700 and CD V-715. Click on any thumbnail to see the larger photo.
| | | |
| --- | --- | --- |
| Urbana Plane Crash | Urbana Plane Crash | Urbana Plane Crash |
| Urbana Plane Crash | Wyandot Plane Crash | Wyandot Plane Crash |
| | | |
Civil Defense Museum Site Index

| | | | |
| --- | --- | --- | --- |
| | | | |