Community Fallout Shelter Supplies
Water Storage Drums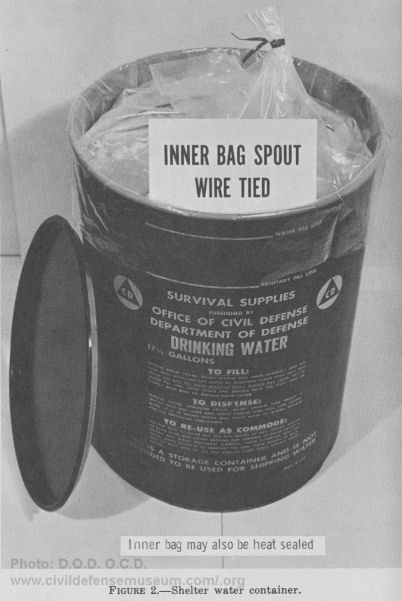 This photo shows the standard 17.5 gallon shelter water drum from the Civil Defense/Red Cross book on Emergency Mass Feeding. The odd 17.5 gallon volume resulted from the plan of providing 1 quart of water per day per person for two weeks (14 days) for 5 people per drum. This size drum seems to be a reasonable/manageable size so I assume that's how the 5 person supply of water per drum was arrived at. The standard shelter water container was a steel drum (or very early issue fiberboard) that had 2 plastic liners inside and stood about 22 inches tall and was about 16 inches in diameter. The center plastic liner is the actual water container and the outer liner is a backup. The liners were either tied or heat sealed closed. This method of storing water does seem a bit complicated in today's plastic-container-filled world but keep in mind that this was back before large plastic containers were in common use. The plastic liner/metal water drum did hold up fairly well though. I saw a few shelters back in the 1980s with hundreds of these drums and didn't see any that were leaking. However, when the liners did leak, the steel barrels wouldn't last long before they would begin rusting.
The Federal CD Guide Fallout Shelter Water Requirements section is downloadable here...
Federal Civil Defense Guide, Part D, Chapter 2, Appendix 4, July 1965, Fallout Shelter Water Requirements. PDF File
Orignal Fiberboard Water Drum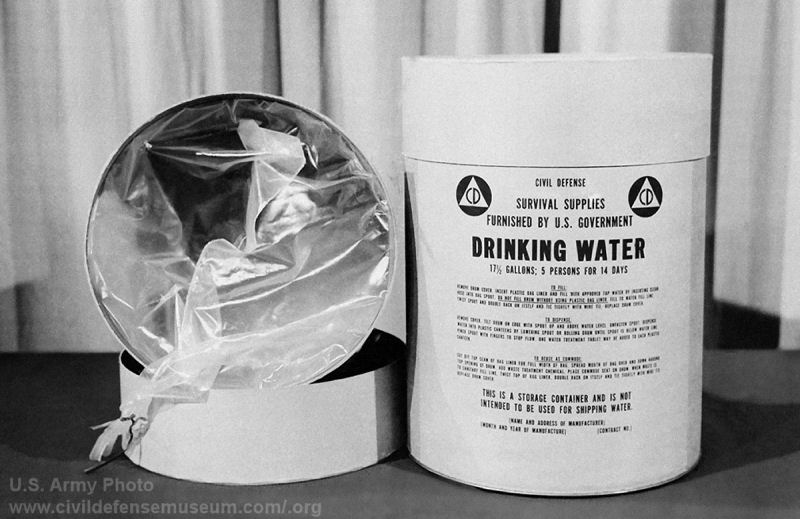 The very early original issue shelter water drums were made of fiberboard similar to the sanitation kit container drums. There were so few of these issued that I have never managed to locate one. The drum in the above photo appears to be a prototype because the text in the parenthesis at the bottom of the label indicates what is to be placed there on the label and is not actual manufacturing information.
The early document Standard Supplies For The Fallout Shelter describes the shelter water storage drums as fiberboard drums with polyethelene liners just as pictured above. In that document there is no mention of metal water drums. Click Photo To See Larger
Early (Feb. 1962) Fiberboard Water Drum Photos By Frank Blazich
The above photos were taken by Frank Blazich in 2018 in a basement shelter area under a school. The other remaing shelter supplies in the shelter area where the usual metal drums, sanitation kits and cases of crackers. The instructions on the drum are interesting in that it states to turn the drum on it's side to dispense the water. I have no idea how this would have worked because as soon as the drum was tipped the bag would have spilled out of the drum with the water in it. The instructions also state to "dispense water into plastic canteens." The plasic canteens were to be issued in the original type of sanitation kits shown on the sanitation kit page under the title Prototype Sanitation Kit. With this discovery now I wonder if any of the early sanitation kits with canteen were ever issued. Maybe some are out there somewhere?
---
Some Water Drum Information
According to the FY 1966 Dept. of Defense, Office of Civil Defense Annual Report, 10,039,929 water containers were purchased. (I wonder if this figure includes the original issue fiberboard type drums? I guess it probably does.)
Table 1-Storage-life of water containers.
Component
Storage Life
Normal Storage
Adverse Storage (1)
Poor Storage (2)
(years)
(years)
(years)
Liners, 4-mil polyethylene
10+
5-8
2-3
Metal drum
10+
5-8
2-3
Metal drum in direct contact with water, in and outside
1.5-3
1.5-3
1.5-3
(1) Indicates materials stored in basements, underpasses, igloos, and similar locations, generally below ground, where temperature, humidity, and housekeeping may be less desirable than expected for normal storage.
(2) Indicates materials stored in locations such as mines, caves, and railroad tunnels exposed to saturated air, condensate, dripping water, and dust, on a seasonal basis.
Federal Civil Defense Guide Part D, Chapter 2, Appendix 1, Annex 1, December 1965
---
Common Metal Fallout Shelter Water Drums
Here are a couple of photos of water drums from my collection. The drum label color seems to vary between white, yellow and orange depending on the contractor who manufactured the drum. Some of the contractor names I have seen on barrels are Rheem Mfg. New Orleans LA, U.S. Steel Sharon PA, Southline Metal Houston TX, Malleable Iron Range Co. Beaver Dam WI, and Cincinnati Galvanizing Co. OH. to name a few. The photo on the right shows the plastic bag liner installed and ready to fill with water. Click Photos To See Larger.
Polyethylene Drum Liners
Polyethylene liners were used in the steel water drums so they would hold water. The steel drums themselves weren't inteneded to be waterproff. Liners came in boxes of 20 double-bag liners, an instruction sheet and a bag of twist-ties. The liners were usually packed in flat boxes but this set was found in a shelter simply rolled up. See description of bags above.
---
Old Photo Of Another Type Of Fiberboard Water Drum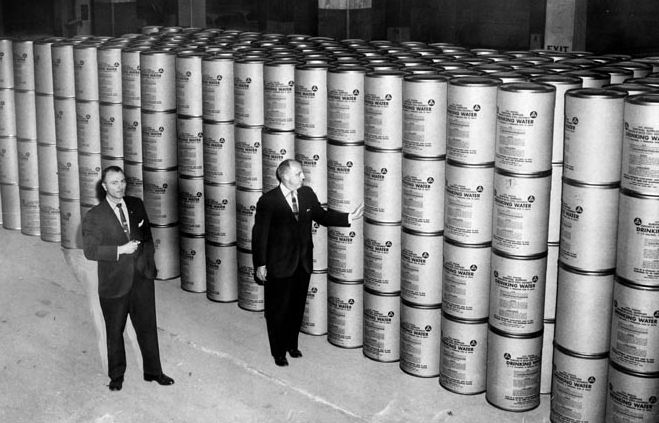 I received this amazing photo via e-mail a while back but I can't remember who sent it to me. I have no idea where this is. Obviously it's hundereds of the original fiberboard shelter water drums but these appear to be a bit different than the sanitaion kit-drum-type pictured above on this page. These drums appear to have metal tops and bottoms on them with a fiberboard wall. I wish I had some info on the photo. If anyone sees this and knows where the photo came from please let me know.
Experimental Water Drum
The drum in the above photo was part of a stock of supplies in New Jersey. There were several other of these experimental drums along with this one. There are also some of these left in the old abandoned New Orleans Civil Defense emergency operations center. This drum was made by US Steel and is the same size as the standard shelter water drum and looks like one except for the extra rolled seam. A later type US Steel made drum lid will fit on this experimental drum. I figure these must have been the first metal water drums for fallout shelters. Unfortunately there isn't a date on it.
---
National Archive Photo Of Water Drum Filling
Here's an interesting photo that was found in the National Archives. This photo was sent to me by Dave Monteyne who did some digging through the National Archives at College Park , Maryland in November 2004 while researching his book Fallout Shelter:Designing For Civil Defense In The Cold War. Thanks Dave!
The date on the photo is 1963. Notice that the man is filling the bottom layer of drums of the second row from the wall and that the drums are standing on wooden strips to keep them off the floor. Also visible at the far left of the photo is a stack of sanitation kits in the background. Wonder how many drums he ended up filling with water here. Who knows, the things might still be there today. There is a note on the photo about "Social Security Administration Building" but there is no location given other than that.
---
---
Documents Referenced
Federal Civil Defense Guide Part D, Chapter 2, Appendix 1, Annex 1, December 1965
Instructions For Filling Civil Defense Water Containers DOD- OCD
Basic Course In Emergency Mass Feeding Handbook, DOD-OCD, American National Red Cross August 1966