Puget Sound Coastal Artillery Museum at Fort Worden Civil Defense Display
Back in 2005 Mr. Alfred Chiswell with the Puget Sound Coastal Artillery Museum at Fort Worden http://coastartillery.org/index.html contacted me about a few samples of Fallout Shelter candy (Carbohydrate Supplement) for a display he was putting together for the museum. Many areas in the old The Fort Worden artillery site were surveyed and designated as Fallout Shelters in 1962. The artillery site's bunkers still had a large stock of original shelter supplies that he used to put together a nice Civil Defense display. Here are the photos he sent me. Thanks Mr. Chiswell!
Click any photo to see larger.

Civil Defense Display
The uniform came from a local thrift shop.


Display Case With Supplies And Radiation Instruments.
The radiation instruments came from the
Port Townshend post office fallout shelter.
Shelter Crackers And Sanitation Kits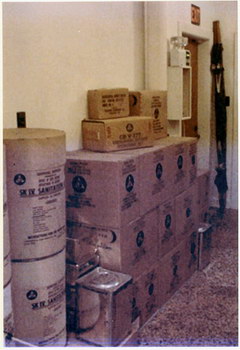 All supplies on display were original stock in the site's shelter areas except the radiation kit.
---
Fort Worden Photos By Justin Bury
In 2005 Justin Bury was by the museum and sent me these photos he took on his visit. Thanks Justin!
---
Jefferson County, Washington Community Shelter Plan
I got this Jefferson County, Washington CSP from Mr. Alfred Chiswell of the Puget Sound Coastal Artillery Museum shortly after he sent me the above photos. This CSP shows the listing of all the fallout shelters at the old artillery site. This is another example of me losing track of Civil Defense material that people are kind enough to send me. Well it's labor day weekend 2015 and I am going through piles of material and came across this CSP. I put this page together about the Artillery Site way back when but never linked to it anywhere on the site. Oh brother! Well here everything is up on the site 10 years after it was sent to me. Sorry Alfred and Justin!
Click all to see larger images.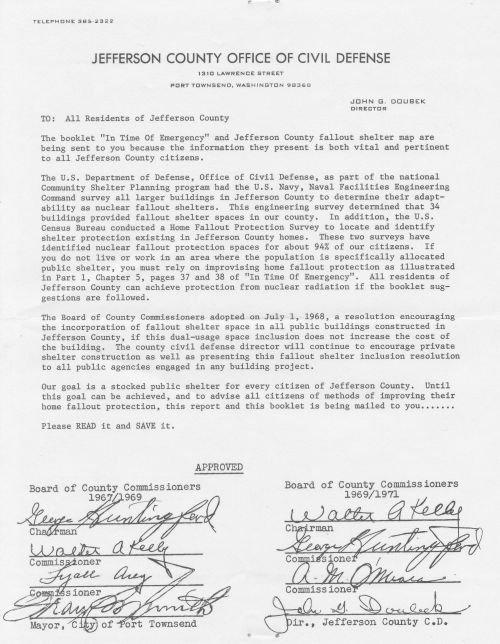 Civil Defense Museum Site Index

| | | | |
| --- | --- | --- | --- |
| | | | |