Various Warning Sirens
Here are some various siren photos I have taken over the years and some photos from other sources.
"Square Horned" Sentry 20V2T. Allen, Texas
This Sentry 20V2T overlooked the intersection of Bethany and Jupiter in Allen Texas for about 20 years. I didn't realize how rare of a siren it was until I e-mailed Scott Yarberry at Sentry siren about it. Here's what Scott had to say about this siren....
"Way to go, you have found one of only about 50 of the square horned 20V2T's made in the early to mid 80's. These were only produced for a short time and were scrapped due to the time required to produce the horns. The rated output was 128, and most were shipped with the horns extended (which made for a huge crate). If there are more questions we can answer, please let us know."
This siren was removed in August of 2004 and sold at auction. I have no idea what became of it. Hopefully it was returned to service somewhere.
Recordings of this siren are available on the Warning Sirens Main Page.
Click the photos below to see larger versions.


After removal with the Allen Thunderbolt and 2T22.
Note how large the 20V2T is next to the other sirens.
---
Denver Siren. McKinney, Texas
This old monster was sitting behind the former main fire station in McKinney, Texas. It is about 6 feet long and 2 feet wide and I bet it weighs a ton. It has a iron base that is mounted onto a steel frame with a little roof cover protector on top. The steel frame and cover aren't part of the original siren unit. The name cast into the base is "Denver Siren." I was able to flip the motor cover up to reveal a 5 HP 3 phase motor. See photos below. Click to see larger.
---
Federal STH-10 Fredericksburg, Texas Fire Department
I trace back my in interest in big sirens back to this STH-10 on top of the fire station in Fredericksburg Texas. The Fredericksburg Fire Dept. used this siren for fire call-in. I vividly remember being awakened in the middle of the night by the blast of this siren when visiting my grandparents in Fredericksburg when I was a kid. Their house was about 1/4th of a mile away from the fire station so it was a definite wake-up when there was a night fire call. I think the siren was activated with a Federal PGA timer because it always ran the "attack" signal which always sounded incredible in that small town.
Sterling Model "M" Fredericksburg, Texas.
This old Sterling siren was mounted on an old concrete water tower in Fredericksburg Texas. I belive this siren was operated in conjunction with their old Federl STH-10 that they used to use for fire call-in. I took this photo in July of 2001. When I was in Fredericksburg in July 2003 this siren had been disconnected but was still on the concrete tower. The original Sterling Automatic Control was still in place in 2001 but was gone in July of 2003. I think the city was still using the siren up to the time it was disonnected. It looked like it was still operational to me when I took the photos in July 2001. See the Sterling Controller Below.
Sterling Siren Automatic Control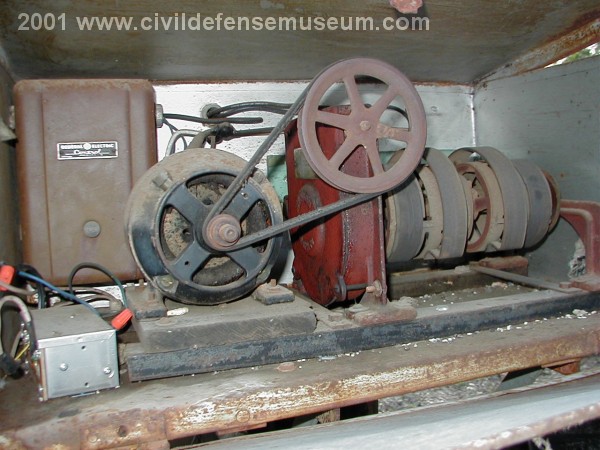 This controller was mounted on a telephone pole across the parking lot from where the water tower. The box was unlocked so I opened it to get the photos. I have a copy of a 1928 Sterling Siren catalog with a photo of this controller in it. The controller appears to operate by turning the cams on the right of the mechanism. I couldn't see what kind of contacts were behind the cams. I didn't get a good enough look at the thing to see how it operates. I believe that is a remote control phone relay box in the lower left of the photo.
---
Canadian CLM Model 92729DP Civil Defence Siren
I don't know much about these Canadian CLM sirens other what can be seen in these photos but info can be found about them on-line. They have a 10 and a 12 port rotor and sound similar to a Federal 2T22 but "raspier." These photos were on an Ebay auction page years ago when someone tried to sell these sirens. They are posted here for interest. If the photographer sees this page please let me know and I will credit you for the photos or if you want these photos removed from this site please e-mail me and I will remove them. I have no idea what happened to these sirens. I don't think the auction received any bids and they weren't relisted again that I know of.
There are several videos on youtube of this type of CLM siren. I think the best I have seen is this video here. http://www.youtube.com/watch?v=8JmzWPHokfM
Click the photos to see larger.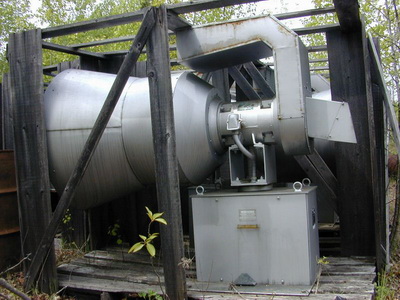 ---
Chrysler Air Raid Siren At Cerro Negro Fire Lookout, California.
Jeff Lemieux sent me this photos of the Chrysler Air Raid Siren at Cerro Negro lookout back in 2001, I believe it was. As usual with me it only took me 16 years to get these up on the site. Actually I think I did have them up for a while but after site changes they ended up not being put back up. Here they are again.
Click Images To See A Little Larger