Civil Defense Museum - Virtual Shelter Tours
Old Dallas Civil Defense Emergency Operations Center
Communications Room
Click Photos To See Larger
The above left photo was taken looking in through the Communications Room doorway from the front entry hall. In 2001 on my first visit this room was very cluttered with storage but in 2013 (when this photo was taken) everything had been cleaned out. You can see the separate cubicles down the length of the room. Each cubicle was designated for use in communicating with different city departments.
The above right photo shows the first radio cubicle. The radio on the right was used for Civil Defense and the radio on the left was used for Fire Department communications. I couldn't believe the radios were still there when I took the tour the first time. They were still there the second time I went back in 2003 but had been removed in 2013. The large box on the desktop used to be on the floor. It has been badly rusted and damaged by water. The radio power and antenna cables run up to boxes and conduits on the ceiling above each cubicle. These radio antenna conduits run through the womens restroom and out of the back wall of the shelter. I don't know where they go from there.
Dallas Times Herald News Photo 11-25-1965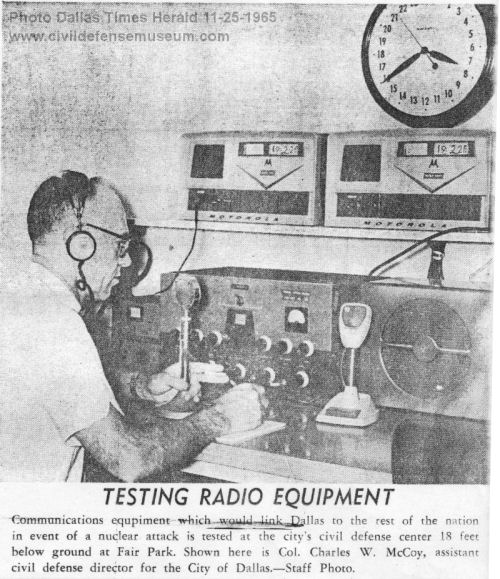 This newspaper photo of C.W. McCoy, Dallas assistant Civil Defense director was featured in the May 25, 1965 issue of the Dallas Times Herald. The radios on the upper shelf haven't had their "CD" emblems installed yet. When I found this picture during a search in the Dallas History Section at the Dallas Public Library I just couldn't believe it. Note the 24 hour clock.
More Communications Room Photos

Radio Cubicle Two With Sherrif and Police Dept. Radios

Far End Wall Of Communications Room.
According to the EOC plan this area was for R.A.C.E.S.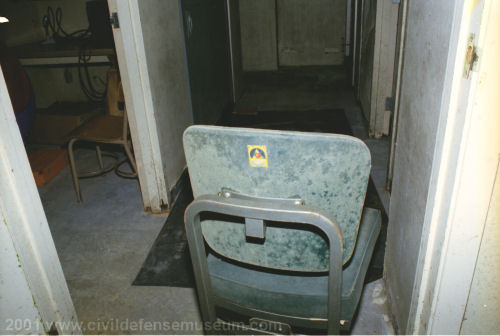 These three photos were taken in 2001 during my first visit to photograph the old EOC. I took the center bottom photo because this chair still had the origianal CD emblem on it but this photo is also a good reference to show the location of the communications room. The front entry to the shelter is the opening in the center of the photo past the chair. The communications room door is there on the left and the women's restroom door is the door to the right just past the chair. The chair is sitting in the door opening into the main operations room from the entry hall. I took the photo standing a few feet inside the main operations room.

The reason for the CD emblem on the chair is to identify that it was paid for with federal civil defense matching funds.
---
| | | |
| --- | --- | --- |
| Go to the Operations Room | Back to Entry | Back to EOC Main |