National Fallout Shelter Program Public Shelters Virtual Tours
Central Christian Church, Sherman, Texas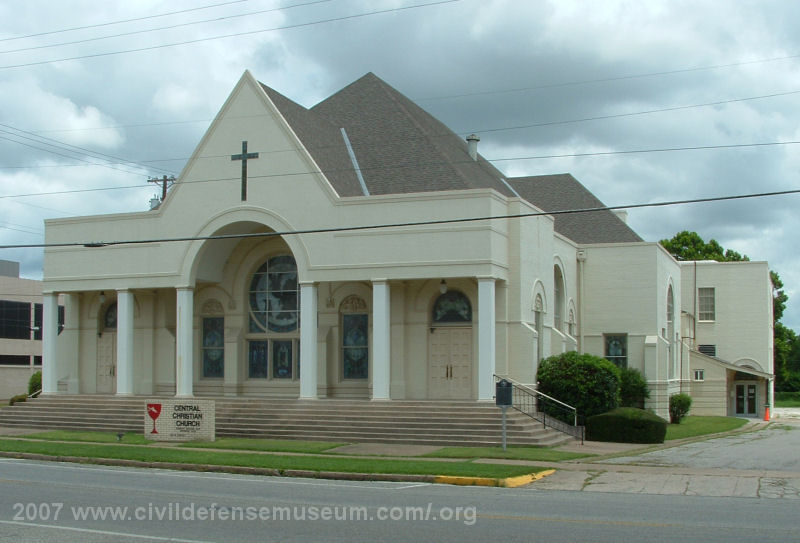 Around 2000-2001 during one of my many fallout shelter scrounging trips to Sherman, Texas I noticed a shelter sign on the north side of the Central Christian Church. This church is right across the street from the police station and central fire station in downtown Sherman. Over the years, every time I went through Sheman I would go by the church to see if anyone was there. I never was able to find anyone at the church until Saturday July 14, 2007. I was making a trip to Moss Lake, Texas to work on one of their sirens when I went through Sherman and decided to stop and check the church again. Luckily, that time some people where there setting up a party so I went in. I walked around the basement a little while and finally found a gentleman who had been with the church for many years. I asked him about the shelter sign and he here is what he told me.....(see photo captions below.)
He said that he remembers when the city CD put up the shelter sign on the side of the building. He said it was in the mid-1960s sometime. I asked him if there were ever any shelter supplies stocked there and he said that the shelter was never stocked with anything. The shelter is the standard old-church-basement area. We talked for a bit longer and then he said "did you see the Civil Defense envelope on the wall by the kitchen." I told him that I had been there for just a few minutes before I found him and he took me to the kitchen and showed me what he was talking about.
The Civil Defense Envelope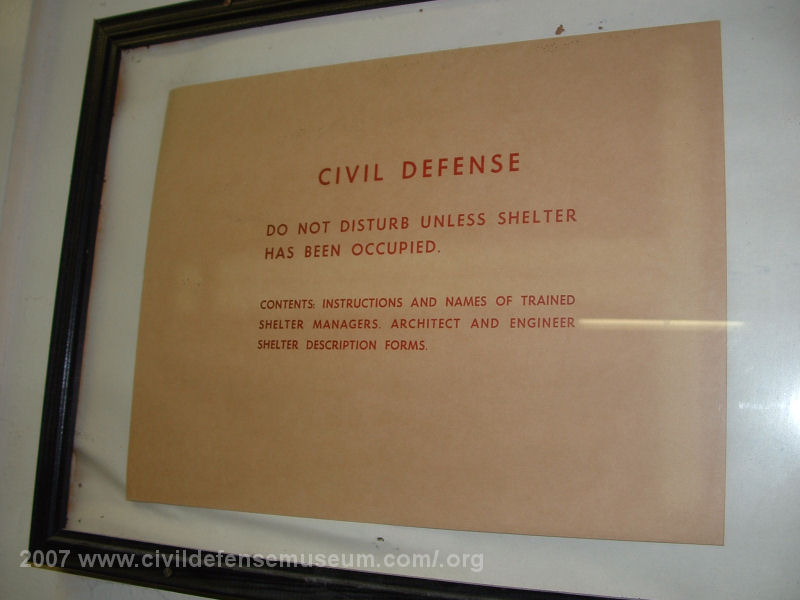 Next to the kitchen door permanently attached to the wall in a picture frame is this envelope. Click the photo to see larger. Printed on the outside is Do Not Disturb Unless Shelter Is Occupied. Contents: Instructions And Names Of Trained Shelter Managers. Architect And Engineer Shelter Description Forms. Actually, as unique as this is, I wasn't completely surprised because I saw shelter information posted like this in the Grayson County courthouse back in 2001 while poking around there for shelter stuff. See the Grayson County Courthouse Page. Sherman is the county seat of Grayson County Tx. The man with the church said that this envelope hasn't been disturbed since it was put in place.
Hallway By Kitchen
Here is the basement hallway into the kitchen. The CD envelope frame is on the wall behind the plant by the kitchen door. I believe the primary shelter area is off to the left in this photo from the kitchen. The door to the left leads to the room pictured below.
Fallout Shelter Area
This room, and the hallway below, is most likely the shelter area in the building. This room is the most centrally located basement room with no windows. This room is located under the main part of the sanctuary of the church. Although I didn't find any supplies again the undisturbed instruction envelope in the frame made it a very worthwhile visit!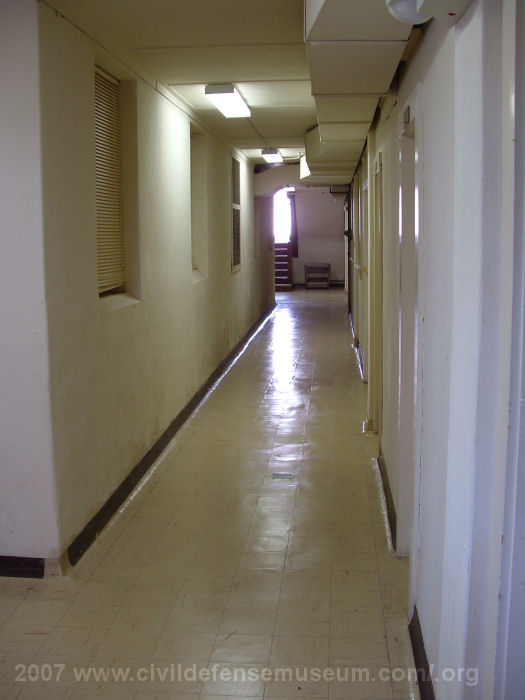 Basement hallway that runs the width of the building. I believe at least the center area of this hall would have been designated a shelter area.