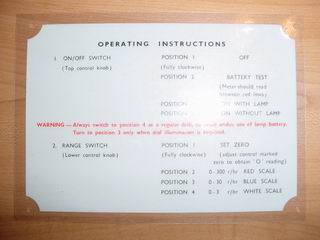 Side Control Panel & Operating Instructions
Batteries are located under the plate, left of the control knobs.
Inside View
All cast aluminum construction, with rubber gaskets to insure being waterproof.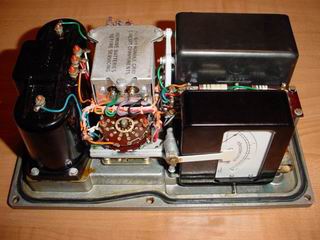 Component Views
Unit has a modification record label inside showing mods 1, 3 & 4 have been done, and
a label on the outside showing mods 4,7,8 & 9 have been done, but no indication of what they are.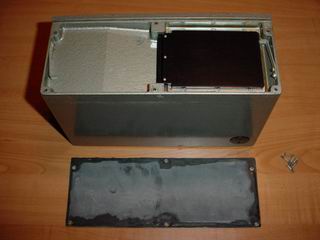 Ready For Beta Detection
By removing the base plate from bottom the unit, this meter can be used to detect beta radiation.
A beta sheild is mounted and held in position by a clip, shown at either end of the unit.
The left photograph shows the plate covering the detector unit and blocking beta radiation.
The right photograph shows the plate moved to allow detecting of beta radiation.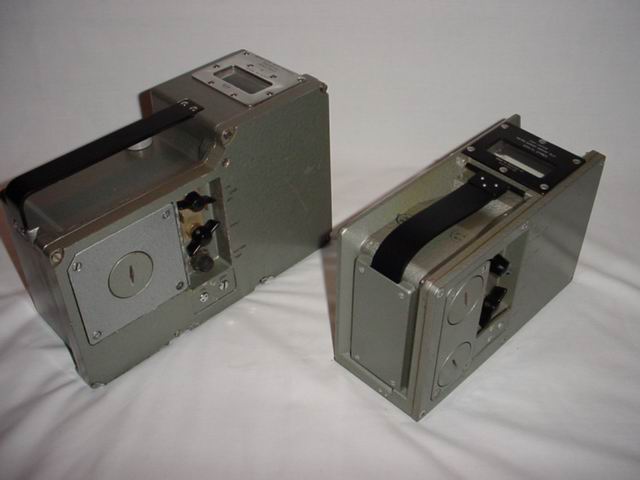 On Left: Meter, Dose Rate, Portable, Trainer, No. 1
On Right: Meter, Survey, Radiac No. 2
These are companion models, the trainer is used to teach the use of the Radiac Model No. 2.
The range is low so it will detect the weak training sources used to simulate radioactive fallout.