British Military
Meter, Dose Rate, Portable,
Trainer, No. 1
Meter, Dose Rate, Portable,
Trainer, No. 1
Complete Set - NSN 6665-110010
Measures 0 - 300 Micro-Roentgens / Hour
Measures Gamma Only
Uses a Geiger Mueller tube as the detecting element.
Includes Haversack No. 4, small screwdriver to adjust zero, and manual.
The haversack is poly vinyl cloride (PVC) impregnated cloth.
Uses (1) - 1½ volt battery / (4) - 30 volt batteries
Manufactured by: EPSYLON
Dimensions: 11" Long x 7" high x 4¼" Wide
Serial Number: 4264
Top View
The handle is fixed on this unit, unlike the Meter, Survey, Radiac No. 2
This unit can be read and operated in the haversack (carry case).
View of meter face with case removed and Model / Serial Nameplate.
The meter face can be lit from the lamp switch on the side.
Inside view of the electronics, the Geiger Mueller tube is almost 8" long.
Note the serial number hand engraved on the side of the meter housing.
Inside view of the case
.
The tube hanging down is the dessicant holder.The color change can be viewed
from the top of the meter through the window just to the left of the carry handle.
All cast aluminum construction, with rubber gaskets to insure being waterproof.
Battery Box and Control Panel
View of the modifcation plate and battery holder.
This indicates that mods 1,2,3,4,6 & 7 were done, but I do not know what they are.
This is the "New Type" battery holder as shown on page 13 of the manual. It is shown with the 30 volt
batteries in place, a 1½ volt battery goes in the middle.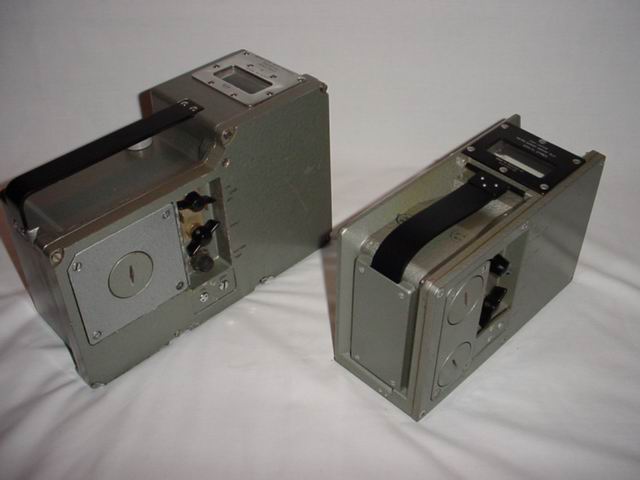 On Left: Meter, Dose Rate, Portable, Trainer, No. 1
On Right: Meter, Survey, Radiac No. 2
These are companion models, the trainer is used to teach the use of the Radiac Model No. 2.
The range is low so it will detect the weak training sources used to simulate radioactive fallout.
Click here for a scan of the Trainer No. 1 manual in Adobe PDF Format.
Click here for a scan of the Radiac No. 2 manual in Adobe PDF Format.