---
Industrial CD

Shelter In Schools

Shelter Supplies

Home Preparedness

Shelter Designs

Rural Family

Hurricane Betsy

Industry Prepares

Build A School

---
Back to Art Gallery Page 2
---
Back to Civil Defense Museum Main

Rural Family Defense Stand-up Display 1959
Click Panel Links To See Larger Images Of Each Panel
Panel 1
Panel 2
Panel 3
This is a single sided display and is about 3 feet tall and about 5 feet long fully unfolded. This display was part of a package of materials for the Rural Civil Defense Program. A large wall map of prospective U.S. target areas that would be hit in a nuclear attack was also included in the package with this display. (See Below) This is the most elaborate display I have in my collection with the top panel supported by the metal rods and the hinged zig-zag panels on the right side. This is a Office of Civil and Defense Mobilization issue display from 1959. The original letter to the civil defense director that the display was shipped to was still in the box with this display when I got it. To check out an Adobe PDF file of the letter click here.
---
U.S. Wall Map Of Possible Target Areas
Click Photo To See Larger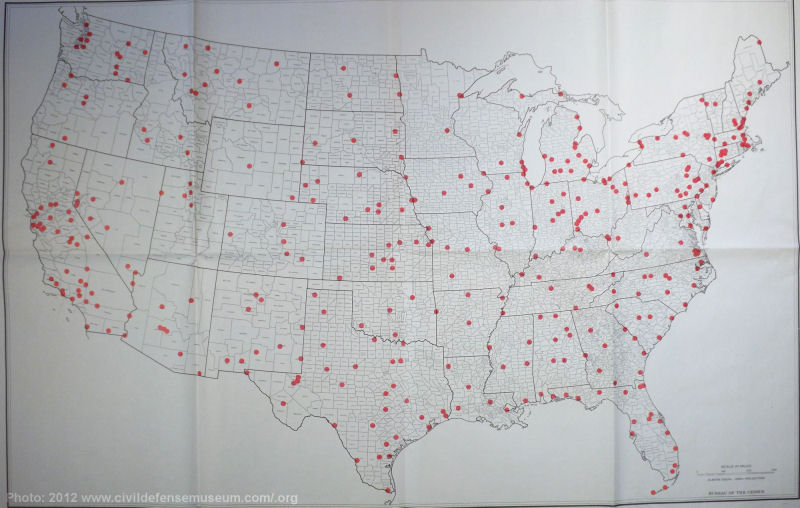 Included in the package with the Rural Family Defense display was this large wall map of the U.S. showing possible (and probably pretty accurate) target areas. The map is about three by five feet in size so I wasn't able to scan it. I had to lay it out on the floor and try to get a photo of it from about 6 feet above it.